A Life-Changing Experience
We are excited to introduce New! EVOLVE EXTENSIONS+
The Evolution of Hair Extensions.
NEW EVOLVE EXTENSIONS+ has combined the speed of a tape-in with the look of strand-by-strand that takes Hair Extensions to a new level of quality and performance.
No Damage
No Chemicals
No Glues or Adhesives
No Heat Required
No Prep Work or Adhesive Removal When Reinstalling
And, it is installed in less than one hour!
EVOLVE EXTENSIONS+ come in 20 colors – 16 Basic Shades and 4 Blends.
Call us today for a complimentary
risk-free consultation. 212-262-3027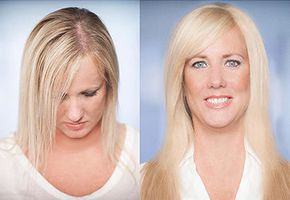 Special Bonus Offer 
Get A FREE $250 Discount Shopping Card
With you purchase of New EVOLVE EXTENSIONS+ or EVOLVE VOLUMIZER
You get EXCLUSIVE SAVINGS not available to the general public.
Travel: discounts up to 40% at over 27,000 participating hotels plus Car Rental and Cruise options.
Dining: savings up to 50% at over 70,000 participating restaurants.  In addition to the dining element there are discounts on local shopping and entertainment which brings the total number of offers to be over 300,000.
Gift Cards: save 10% on over 150 national retailer gift cards.
Merchandise: savings up to 40% on over 12,000 Brand Name SKU's from popular categories such as:  sunglasses, clothing, beauty and fragrance, jewelry, movie tickets, magazines and more!
Easy to use | Special Login to Redeem Online | Dollarstretch.com
EVOLVE VOLUMIZER
The EVOLVE Volumizer is a life changing experience for women with fine or thinning hair or suffering from hair loss.
EVOLVE Volumizer is a unique wearable solution with a poly-mesh base that is light weight, comfortable to wear and self-molds to the head. It allows the scalp to breathe, doesn't trap or hold water, is completely flexible and causes no damage to existing hair.
Non-Damaging, Non-Invasive, No Chemicals, No Adhesives or Glues
The EVOLVE VOLUMIZER & EVOLVE EXTENSIONS+
For Hair Needs and Fashion Wants
Call us today for a complimentary risk-free consultation.
212-262-3027